Janne Ho! EP, 2011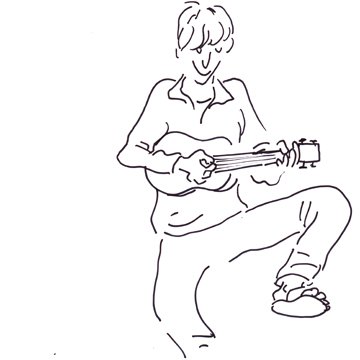 1. Alchemy (2010)
2. Bhulu Bhulu Laagyo is a cover of a seventies Nepali song by the great and late Arun Thapa. Adrian on guitar.
3. About You was recorded on a big rock in the middle of the jungle in Nepal, with a hand recorder and a pair of airline headphones. Flute, uke, harmonium, voice, reverb!
4. Rollin was written back in 2009, at burnout city. I never got around to recording it until I got to Kathmandu. Used a $15 guitar and a knockoff sm58...somehow it turned out alright.
5. Aaja Ki Bholi was recorded on Ableton in Khotang, Nepal. Rabindra Rai on vocals. He sings: Where are you? I thought I saw you walking, but it was someone else. I feel like asking everyone I see if they know... Can we live our life today, or must we wait until tomorrow? After all, we can't take anything with us when we die. What do you think of that, my love?
6. Out in the Ocean was also recorded in Khotang, at the Nahima farm. Ukulele, harmonium, madal, vocals, samples of the mule train that passed every morning.
7. Pakka was created with Joe back in 2010. All sounds are samples of random objects in the Pomona music lab.

Thanks to Tonton Fou (Titouan Bordeau) for the drawing!